Wahoo's Tacos – 24/7 Beach Bar Tavern & Gaming Cantina
Welcome to Wahoo's Tacos Centennial Hills, where quality ingredients meet the art of freshly made-to-order food! We take pride in serving you a tantalizing array of options that are sure to satisfy your cravings. Whether you're a meat lover, vegetarian, or have specific dietary preferences, our bar & grill has something delicious waiting for you.
Quality Ingredients with Food Freshly Made to Order
At Wahoo's Tacos Centennial Hills, we believe that great food starts with quality ingredients. That's why we source the freshest produce, premium meats, and sustainable seafood to craft our mouthwatering dishes. Every order is prepared with care and precision, ensuring that each bite is a flavorful delight.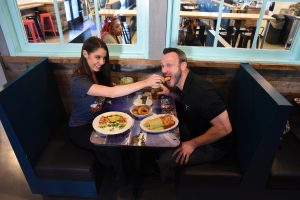 Our Bar & Grill Serves a Variety of Protein Options
From succulent chicken breast and tender carnitas to savory carne asada and wild-caught fish, we offer a diverse range of protein options to cater to your taste buds. If seafood is your preference, indulge in our line-caught wahoo and salmon fish dishes, expertly prepared to perfection. And for our vegetarian friends, we have delectable tofu and veggie options available, ensuring everyone can find something delightful on our menu.
Happy Hour Every Day
Join us for a delightful experience during our daily Happy Hour! Sip on refreshing beverages and indulge in our delicious bites while enjoying great company. It's the perfect time to unwind, relax, and enjoy the lively atmosphere at Wahoo's Tacos Centennial Hills.
House-Made Sauces and Salsas
Enhancing the flavors of our dishes, we take pride in our house-made sauces and salsas. Prepared with the finest ingredients and a dash of culinary expertise, our signature creations add an extra kick to your favorite meals. Each bite becomes a tantalizing journey of tastes and textures, leaving you craving for more.
Catering to Your Dietary Preferences
We understand the importance of accommodating various dietary needs and preferences. That's why we offer a wide range of options for our health-conscious customers. Whether you follow a keto, gluten-free, vegan, or vegetarian lifestyle, we have thoughtfully crafted dishes that will exceed your expectations. Indulge in the flavors you love while staying true to your dietary goals.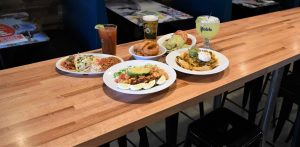 Pub Foods with a Twist
Craving classic pub fare? We've got you covered! Alongside our mouthwatering tacos, we also offer pub favorites like wings and burgers. But at Wahoo's Tacos Centennial Hills, we give these classics a unique twist, infusing them with our signature flavors and culinary creativity. Prepare your taste buds for a culinary adventure that will leave you wanting more.
Breakfast Served All Day:
Love breakfast? So do we! That's why we serve our delicious breakfast menu all day long. Start your day with a hearty breakfast burrito, fluffy pancakes, or a vegan breakfast bowl. Whether you're an early bird or prefer a leisurely brunch, our breakfast options are available whenever you're craving that morning satisfaction.
24/7 Beach Bar, Tavern, and Gaming Cantina with Video Poker:
Step into our vibrant and lively beach bar, tavern, and gaming cantina. Immerse yourself in the coastal-inspired ambiance as you sip on refreshing beverages and enjoy our delectable food offerings. For those seeking entertainment, we also feature video poker to add excitement to your day or night. Wahoo's Tacos Centennial Hills offers a unique combination of beach bar vibes, a welcoming tavern atmosphere, and the thrill of gaming.
Convenient Location in Northwest Las Vegas
Visit Wahoo's Tacos Centennial Hills and experience a culinary journey like no other. With quality ingredients, freshly made-to-order food, an inviting atmosphere, and a menu that caters to all tastes, we're dedicated to providing you with an unforgettable dining experience. Come join us and indulge in a symphony of flavors that will leave you craving more!
Food Delivery From This Restaurant Location Includes:
89149, 89143, 89131, 89129, 89136, 89130, 89166, 89085, 89128, 89134, 89108, 89031, 89144, 89145, 89084, 89032, 89033, 89138, 89107, 89117, 89086, 89106, 89030