Wahoo's Tacos – Beach Bar Tavern & Gaming Cantina Summerlin
Welcome to Wahoo's Tacos Summerlin, where flavor meets fun in the sun and the vibes are always laid back! Get ready to embark on a taste adventure that will leave you craving more. We take pride in using quality ingredients and preparing our food fresh to order, ensuring that every bite is bursting with deliciousness.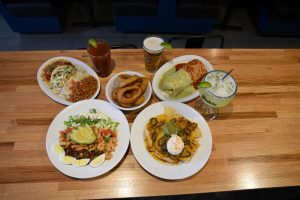 Quality Ingredients with Food Freshly Made to Order
Our bar & grill is a haven for protein lovers. Sink your teeth into juicy chicken breast, tantalize your taste buds with savory carnitas, or savor the succulence of mouthwatering carne asada. Seafood enthusiasts can delight in the flavors of wild-caught fish, shrimp, and our prized line-caught wahoo and salmon. And for our veggie warriors, we offer protein-packed tofu and a colorful array of fresh veggies. Whatever your preference, Wahoo's Tacos Summerlin has the perfect protein option for you.
Our Bar & Grill Serves a Variety of Protein Options
From juicy chicken breast and tender carnitas to savory carne asada and wild-caught fish, we offer a diverse range of protein options to cater to your preferences. Indulge in the flavors of line-caught wahoo and salmon fish, expertly cooked to perfection. We also have shrimp, veggie, and tofu options available, ensuring everyone can find something delightful to savor.
Happy Hour Every Day – Better Deals Daily
At Wahoo's Tacos Summerlin, we believe happiness should be a daily celebration! That's why we host Happy Hour every single day. Sip on refreshing beverages, enjoy tantalizing bites, and soak in the lively atmosphere. Whether you're catching up with friends or simply unwinding after a long day, our Happy Hour is the perfect time to let loose and enjoy the good times.
House-Made Sauces and Salsas that are Worth the Dip
Our house-made sauces and salsas are the secret ingredients that take our dishes to the next level. Crafted with love and creativity, each sauce and salsa adds a burst of flavor and zing to every bite. From tangy and spicy to creamy and cool, our condiments will make your taste buds dance with joy.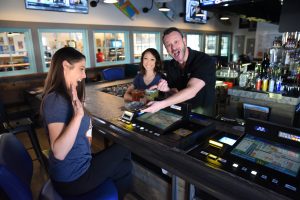 Catering to Diverse Dietary Preferences
At Wahoo's Tacos Summerlin, we believe that everyone should be able to enjoy our delicious fare. That's why we offer a wide range of options to cater to various dietary needs. Whether you're following a keto, gluten-free, vegan, or vegetarian lifestyle, we have thoughtfully crafted dishes that will leave you satisfied and smiling.
Discover Pub Food with a Wahoo's Twist
Craving classic pub fare with a Wahoo twist? Look no further! Our menu features pub favorites like wings and burgers, but with our unique spin. We infuse these classics with our signature flavors and culinary creativity, resulting in a taste sensation that will have you coming back for more.
Breakfast Anytime, Because Who Says Mornings Should Have All the Fun?
At Wahoo's Tacos Summerlin, we believe that breakfast should be enjoyed any time of day. Start your morning off right with our hearty breakfast burritos, fluffy pancakes, or flavorful omelets. No matter what time the clock strikes, we're here to serve up breakfast delights that will make your taste buds do a happy dance.
Embark on an Unforgettable Culinary Adventure at Wahoo's Tacos Downtown Las Vegas
With a commitment to using the highest quality ingredients, crafting freshly made-to-order food, providing a warm and inviting atmosphere, and offering a menu that caters to all preferences, we're dedicated to ensuring an extraordinary dining experience. Join us and savor a symphony of flavors that will leave you longing for more!
A Beach Bar, Tavern, and Gaming Cantina Rolled Into One:
Step into our vibrant beach bar, lively tavern, and thrilling gaming cantina. Immerse yourself in the laid-back beach vibes, sip on refreshing beverages, and indulge in our mouthwatering food offerings. For those seeking a little excitement, we've got video poker to keep the fun going. At Wahoo's Tacos Summerlin, we're all about creating an atmosphere that's as entertaining as it is delicious.
Come Visit Wahoo's in Summerlin Las Vegas for 24/7 Fun, Food and Games
Wahoo's Tacos Summerlin is more than just a place to satisfy your appetite; it's a destination where you can relax, have fun, and create lasting memories. Whether you're enjoying a delicious meal, trying your luck at video poker, or simply soaking up the lively atmosphere, our beach bar, tavern, and gaming cantina provide the perfect setting for a great time.
Food Delivery From This Restaurant Location Includes:
89145, 89144, 89117, 89128, 89134, 89146, 89147, 89140, 89107, 89129, 89138, 89108, 89135, 89103, 89130, 89102, 89106, 89032, 89158, 89149, 89118, 89148, 89113, 89109, 89136, 89157, 89199, 89151, 89152, 89126, 89150, 89137, 89133, 89132, 89127, 89195, 89153, 89155, 89159, 89160, 89162, 89163, 89164, 89177, 89180, 89185, 89116, 89193, 89111, 89112, 89114, 89125, 89169, 89101, 89154, 89031, 89030, 89173, 89170, 89119, 89087, 89036, 89131, 89104, 89178